Download MSI Kombustor for PC to test GPU performance by pushing the limits to the fullest. It's a free utility program for windows users to do graphics card stress test.
The software interface is very easy to use and simple. You don't need to be a techy guy to use this tool. Just download MSI Kombustor Tool and start tests.
You may find many benchmarking tool as paid or premium. But you get Kombustor by MSI for free. There is no any charge or fee to download and use this tool.
MSI Afterburner is an ultimate overclocking and stress test utility tool for MSI Graphics cards. You can link Kombustor with Afterburner for a detailed and extreme analysis of your GPU.
GPU Temperature Monitoring
Kombustor by MSI gives you a great insight about your graphic card. One such information is GPU Temperature monitoring. The tool will display you real-time GPU core temperature and load.
The tool is very simople yet powerful. It gives you ability to run a number of tests. The very basic thing you can do is GPU stress test, which you can run with Afterburner or separately as well. There is also a Xtreme Burning Mode for Xtreme testers.
There are two screen size options available, the one is standard and another is custom. You can opt any of these two as per your preference. Furthermore, you can also select fullscreen or windowed screen for each test that you run in the MSI Kombustor.
MSI Kombustor Download for PC
You can download MSI Kombustor for Windows running on 32-bit and 64-bit architectures. As of now, the software is only available for windows users. You can grab the Kombustor MSI Download setup from links provided below. Please make sure that you are downloading the suitable files for your computer.
FILENAME
MSI_Kombustor4_Setup_v4.1.27.0_x64.exe
VERSION
4.1.27
SIZE
92.2 MB
RELEASED ON
27 Aug 2023
FILE NAME
MSI_Kombustor_v4_x32_Setup_v0.6.3.1.exe
VERSION
0.6.3.1
SIZE
10.7 MB
RELEASED ON
15 June 2018
How To Install MSI Kombustor
Here we have the step-by-step instructions that you can follow to install MSI Kombustor on Windows computer or laptop. 
First of all, Download MSI Kombustor Latest Version for Windows PC using the links above.
Once downloaded, click on the setup file to run installation wizard.

Once the installation wizard starts, click on 'Run' and then allow administrator permission by again clicking on "YES".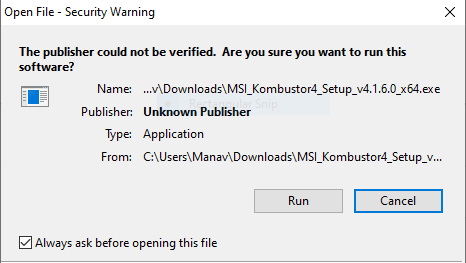 Now on the setup, select "I accept the agreement" > "Next".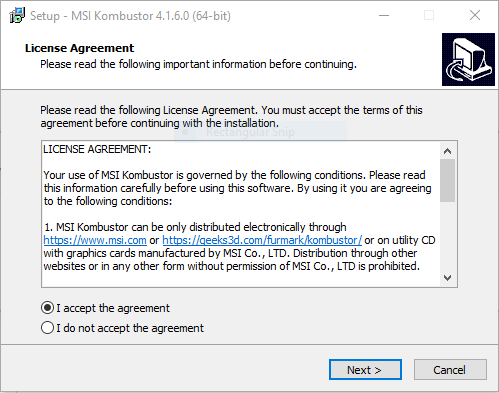 Then select the destination folder for the software installation. You can leave it default.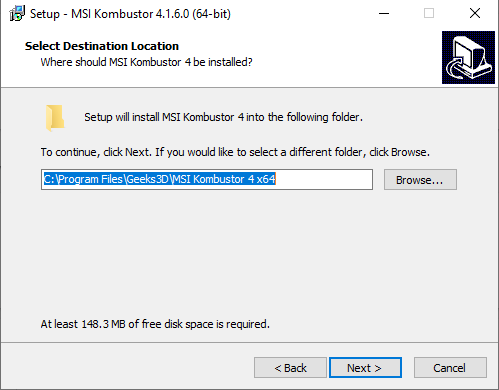 Tick "Don't create a Start Menu folder", if you don't want to add MSI Kombustor icon to the start menu.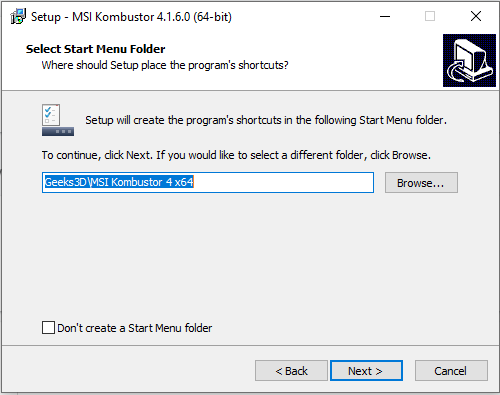 In the additional tasks, select the options as per your preference.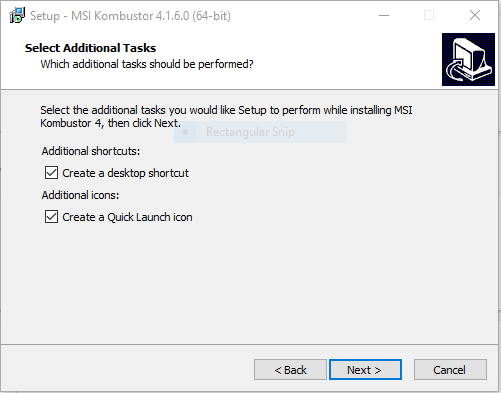 At last, Hit "Install" button to proceed the installation.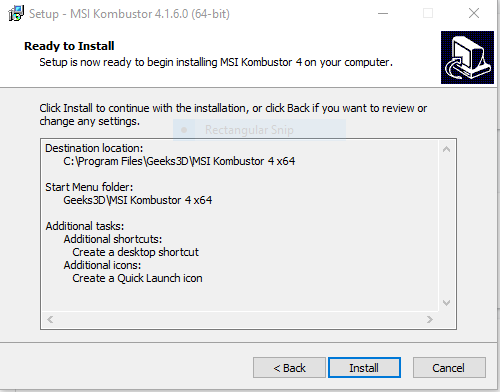 Looks like you have some queries or questions regarding this benchmarking tool. Feel free to take a look at some of the frequently asked questions that we have listed below with the right answers.